Hanna Kim
is an artist and a designer.
I draw, design, and make—to understand deeper meaning, translate unfamiliar dialogues, and realize radical justice. I am pursuing a Master in Design Studies at the Harvard Graduate School of Design with a concentration in Art, Design, and the Public Domain('19), focusing the research on the intersection of design and policy. I am open for freelance work.
EJI Slavery Report | Jun 2018 ~ Jul 2018
Graphic Design, Illustration
Slavery in America: The Montgomery Slave Trade documents American slavery and Montgomery's prominent role in the domestic slave trade. The report is part of EJI's project focused on developing a more informed understanding of America's racial history and how it relates to contemporary challenges. EJI believes that reconciliation with our nation's difficult past cannot be achieved without truthfully confronting history and finding a way forward that is thoughtful and responsible.

©2018 by Equal Justice Initiative. All rights reserved. No part of this publication may be reproduced, modified, or distributed in any form or by any electronic or mechanical means without express prior written permission of Equal Justice Initiative.

Created during the Summer Justice Internship at Equal Justice Initiative

Shop
online EJI Market
offline EJI Bookstore




Making Policy Public | Jan 2017 ~ Jan 2018
Graphic Design, Illustration
A final termination notice. The heating bill that's four times what it was last month. A summons to court to meet with Con Ed. In all of these situations, you have rights—and there are resources available to New Yorkers who struggle to pay their utility bills. These consumer rights and programs are especially important for low-income people across New York State, who often have to choose between paying their utility bills and basic necessities like rent, food, medication, and school supplies. But consumers are often unaware of the rights they have to keep their essential electric and gas service.

That's why CUP, Public Utility Law Project (PULP), and designer Hanna Kim teamed up to create Shine A Light On Your Utility Rights, the first guide to illustrate utility consumers' rights in New York State. Simple text and visuals spell out practical steps you can take to tackle common utility problems, from being behind on your bills to dealing with a shutoff notice. At the center of the guide is a poster that helps people understand how to file complaints and access resources that can help them pay their bills.

PULP is distributing Shine A Light On Your Utility Rights to people across New York State in in-person trainings and through legal services organizations, housing rights advocates, and elected officials. PULP plans to present the guide at community meetings, health fairs, community board events, and senior centers.

Press
Queens residents turn the heat up on utilities on NY1 News, March 09, 2018
The Public Utility Law Project and State Senator Leroy Comrie's office hosted a free clinic on Friday, helping residents go through their utility bills.




Memory-Go-Round | Dec 2017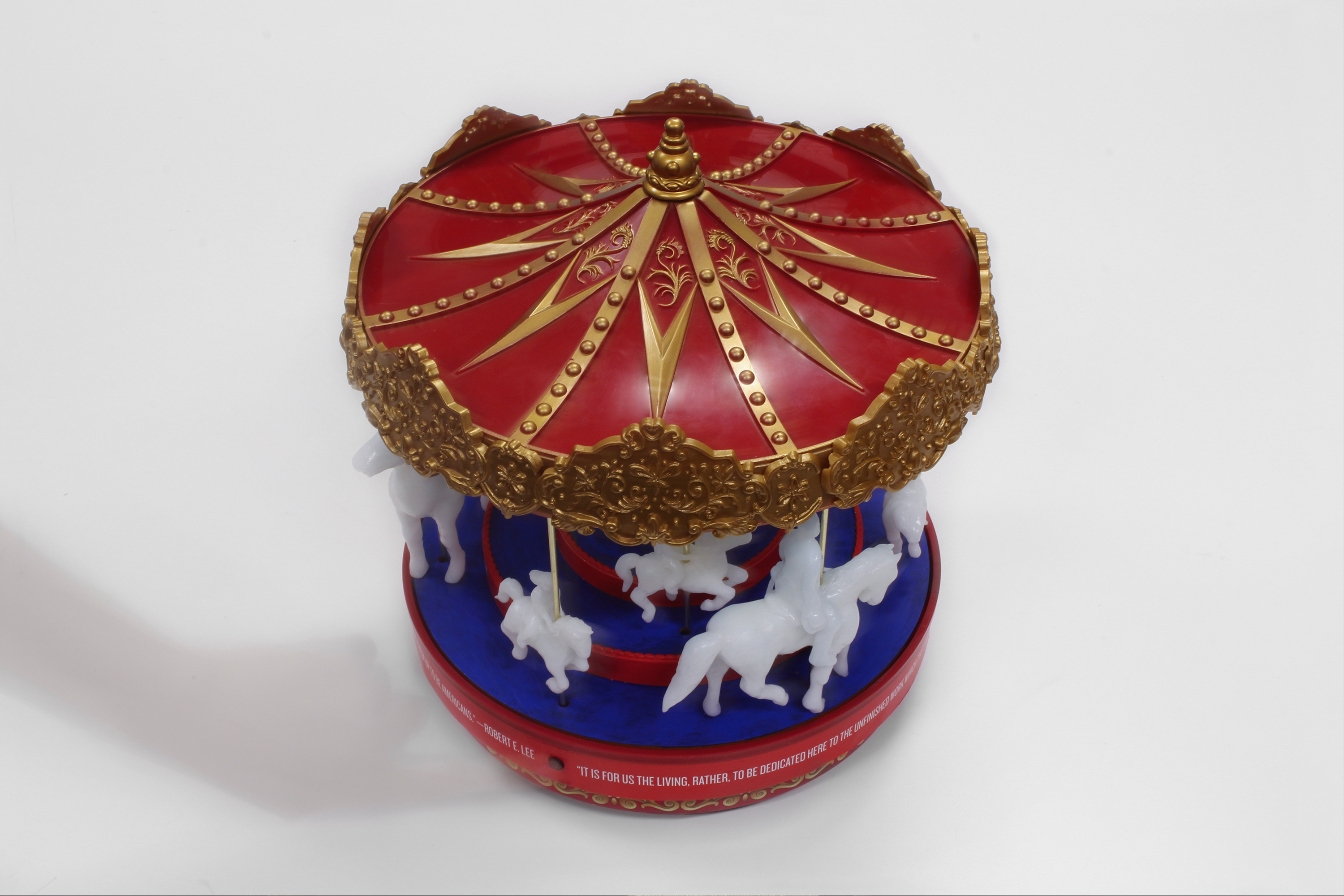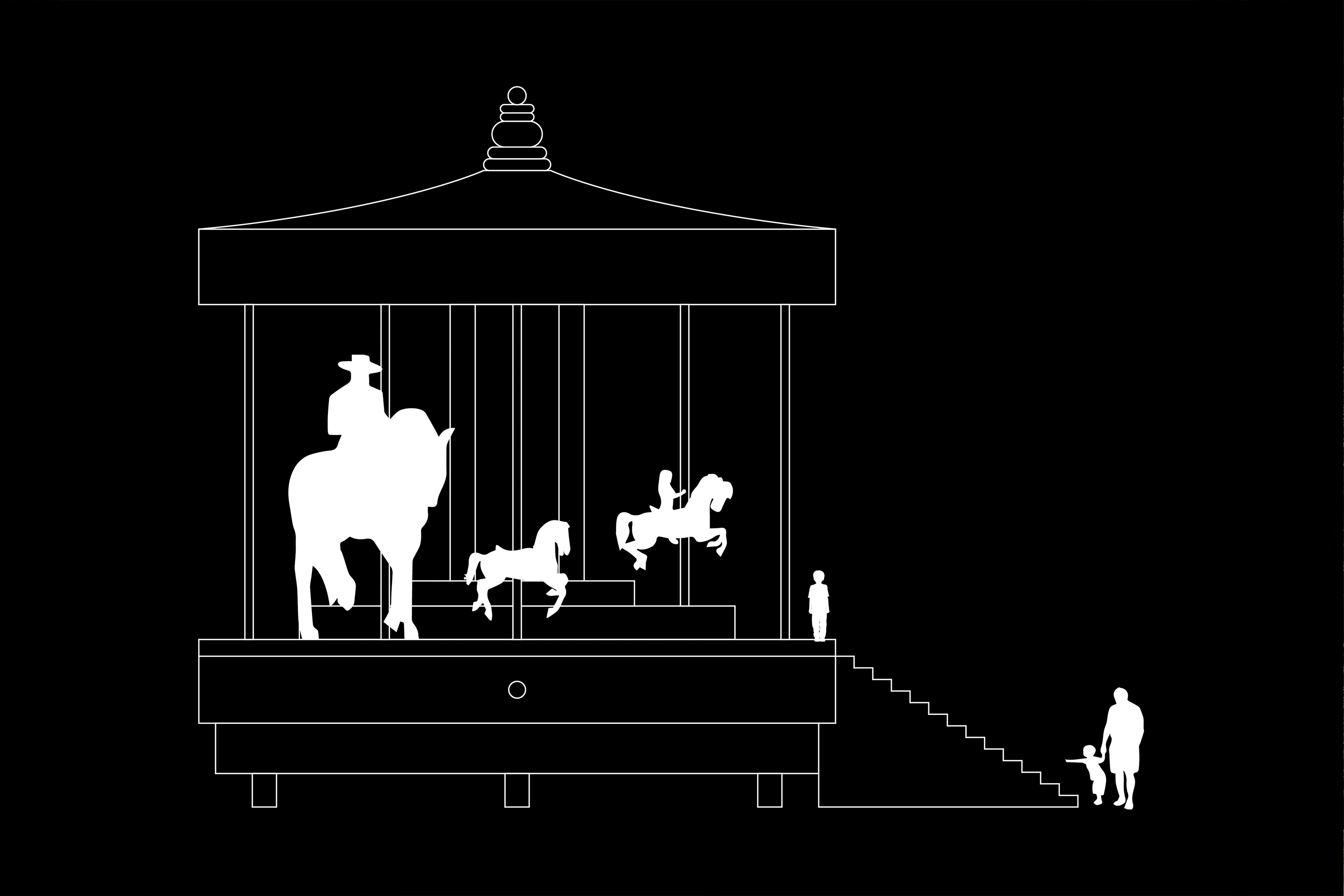 Collaboration with Eric Moed, Mindy Seu, Andrew Scheinman
Advised by Krzsyztof Wodiczko

In August 2017, thousands of torch-bearing white nationalists descended on Charlottesville, Virginia to protest the planned removal of a statue of Confederate General Robert E. Lee. This intensified a national reckoning with the hundreds of Confederate statues that dot cities from Jacksonville to Helena, Montana, leaving a stockpile of removed Confederate statues with nowhere to go and Americans with questions about what to do with them. Should these monuments be destroyed, or relocated to museums or cemeteries?
[...]
Enter the Memory-go-round, a monumental carousel that confronts Civil War revisionism by building on a different sort of American nostalgia.
[...]
Civil War statues have uncertain futures and militant pasts, which must be remembered but no longer celebrated. To train them for peace, the Memory-go-round enlists these soldiers and their steeds to gallop side by side with their former enemies—to be, simply, American. Just as carousels evolved from military exercises to entertainment devices ringing in the new American century to the tune of carnival music, so too will Civil War monuments become monuments to more noble American ideals of this century—monuments to the devalorization of war, monuments toward playfulness and peace.

Full statement



The Shapeless Shapes of the World | Dec 2017
Storytelling, Illustration, Graphic Design
A Stateless person is a person who is not considered as a national by any State under the operation of its law1. In simple terms, this means that a stateless person does not have a nationality of any country.

Today, at least 10 million people around the world are stateless, which is roughly one in every 750 people in the world. A child is born stateless every ten minutes. Statelessness exists in every region of the world, but remains a largely "hidden."

Statelessness is the most acute violation of the right to a nationality, a well-entrenched principle of international human rights law. It's a forceful, inhumane, and illegal removal and denial of one's nationality.

I wanted to communicate the injustice, absurdity, and urgency of statelessness and generate meaningful conversations and actions towards eradicating statelessness once and for all. By using simple geometric shapes I highlight the contradiction of recognizing someone as human, yet stripping away of all the essential rights that constitute "being human."

This book was created as an independent project in GHP 262: Emerging Issues in Humanitarian Response and Human Rights Protection at Harvard T.H. Chan School of Public Health, Fall 2017.
Advised by Jacqueline Bhabha and Phuong Pham.

Full book on issuu